INTERNATIONAL WHITE COLLAR CRIME: Cases and Materials
By Bruce Zagaris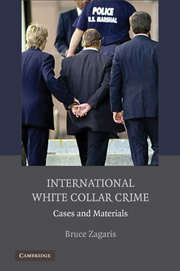 About the Book
Contemporary transnational criminals take advantage of globalization, trade liberalization, and emerging new technologies to commit a diverse range of crimes, and to move money, goods, services, and people instantaneously for purposes of pure economic gain and/or political violence. This book captures the importance of transnational business crime and international relations by examining the rise of international economic crime and recent strategies in the United States and abroad to combat it. The book is organized into three main sections. The first part discusses substantive crimes, particularly tax, money laundering, and counter-terrorism financial enforcement; transnational corruption; transnational organized crime; and export control and economic sanctions. The second part discusses procedural aspects of international white collar crime, namely extraterritorial jurisdiction, evidence gathering, extradition, and international prisoner transfer. The third part discusses the role of international organizations, including the United Nations, the World Bank Group, INTERPOL, and economic integration groups.
First book of cases and materials on international white collar crime
First case book that comprehensively discusses the interaction of international criminal law and international organizations
Provides a practical, hands-on treatment of how lawyers and legal professionals solve substantive and procedural issues in a wide range of international criminal law fields
Reviews & Endorsements
"This treatise is not only a comprehensive resource for practicing attorneys handling cutting edge issues, but will also encourage law students to pursue the field of international white collar crime."
--Linda Friedman Ramirez, Attorney, St. Petersburg, Florida
"International White Collar Crime is a thoroughly-researched, well-organized encyclopedia of the ABCs of white collar crime on the international front, from tax and fiscal offenses, foreign corrupt practices act violations, customs crimes, mutual assistance protocols, extraditions, and the multi-national organizations combating these violations & offenses. The text is easy to read yet filled with legal citations from US authorities, and perhaps more importantly, citations from foreign and international tribunals and organizations. This publication is a must for the library of any practitioner whose practice includes international transactions and law enforcement as well as for any law student embarking on the study of the same subjects."
--Roger Olsen, Former Assistant Attorney General of the United States
"International White Collar Crime is the one-stop shop for any course that seeks to explain and expound upon the existing and expanding legal issues relating to global criminality. It is not only an intelligently arranged and comprehensive compilation of the relevant statutes and cases, but with carefully thought-out hypotheticals that follow each of the chapters, it also allows for an exploration of the practical consequences of sovereign jurisdictions seeking to resolve common problems as they struggle with the constraints imposed upon them by their domestic jurisprudence, legislation, history and culture. There is little doubt that this much needed publication will enhance the success of the limited number of existing courses in the field. More importantly, it will encourage professors to develop and offer related electives that are not now available to the many law school students who have in interest in, or a desire to enter, this increasingly important segment of the law."
--Ronald Goldstock, Former Director of the New York State Organized Crime Task Force and teaches at Cornell, Columbia, and New York University Law Schools
"International White Collar Crime fills an important gap in treatises on white collar criminal law. The international emphasis of this work greatly expands the ability of practitioners, judges, and students to grasp legal and practical issues specific to white collar crimes extending beyond the borders of the Anglo-American legal system. The relevance of the cases selected for discussion is timely and current and significantly updates the scholarship on white collar crime in a manner that provides a seamless continuation of the constantly evolving field of white collar criminal law.
Of particular value is the treatment of the role of non-government organizations in the regulation and monitoring of international white collar crime, with emphasis on the intrinsic connection of white collar crime with the international economy. Also useful, especially for prosecutors here in the United States, is Mr. Zagaris' detailed discussion of the role of international enforcement networks and enforcement sub-regimes, in the course of which he brings together the collective knowledge of experts in international white collar criminal law to provide astute analysis and insights for his readers to understand better the challenges and the solutions lawyers and judges need to know in order to contend with the actions of transnational actors involved on both sides of international white collar crime.
International White Collar Crime provides a comprehensive and exhaustive treatment of a highly specialized field of law that is rapidly gaining significance for domestic criminal law practitioners who must contend with the increasingly globalized nature of white collar crime and its impact on the rule of law and the civil society."
--Luz E. Nagle, Professor of Law, Stetson University College of Law
Product Details
DATE PUBLISHED: February 2010 FORMAT: Paperback
ISBN: 9780521122993 LENGTH: 590 pages
DIMENSIONS: 253 x 178 x 26 mm WEIGHT: 0.99kgAVAILABILITY: In stock
Ordering
Click here to purchase Bruce Zagaris' book International White Collar Crime from Cambridge Press.
Click here to purchase Bruce Zagaris' book International White Collar Crime off of Amazon.
Sports brands | Cactus Plant Flea Market x Nike Go Flea Collection Unveils "Japan Made" Season 4